Managing Video and VR Content with Plone
Manabu will introduce two open source Plone add-ons that he and his colleagues have created.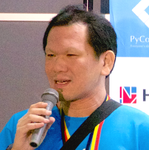 Length:
Short Talk
Target Level:
Intermediate
Target Audience:
Integrator
,
Developer
There are lots of difficulties involved in handling video content. Manabu will share his experiences solving these problems while creating two new Plone add-ons:
c2.app.moviecontent - provides support for embedding video in

Plone

content.
c2.app.streamingaws - makes

it

possible to host video content on Amazon Web Services (AWS) with Plone.
He will describe why and how he created these add-ons, what they do, and give us a demo. He will also show some new ways to support a VR (virtual reality) view for image and video content in Plone.