Where To Eat Dinner
Explore a different neighborhood every night!
Sunday: Durgin Park
We'll use Durgin Park as the restaurant where folks arriving on Sunday can gather. It has long tables, the first people there should argue with the wait staff (they are famous for their sass) to get a spot where a lot more people can join. It closes at 9:00, but there are bars and night spots in the neighborhood where the party can move too. Keep an eye on the #ploneconf2016 hashtag and the @ploneconf Twitter account for late breaking news.
Durgin Park is a Boston institution.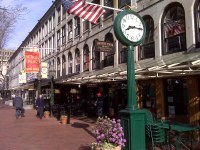 Quincy Market, where it is located (in the North Market building), was Boston's major produce and meat market from 1826 to the early 1970's when it fell into disrepair and underwent a major restoration. Legend has it that butchers in the market would bring their own chop and have it cooked to order. Those days are gone, but it's still a very meat-centric place with such New England staples as boiled dinners, baked beans, and chowders. The first thing you should know about eating at Durgin Park is that its forte is meat, not seafood, and the prime rib is especially famous. 40 years ago the slice was so large it draped over the edge of the plate. They've dialed it back since then but it's still big enough for 2 meals. (Many people take the leftovers home to eat later.) The second thing you should know is that they have the best Indian pudding in the world. You've probably never heard of Indian pudding - it's a traditional New England corn meal and molasses concoction and you should definitely try it. Get it with vanilla ice cream.
Monday: Harvard Square
Home of Harvard University, take a stroll through Harvard Yard before hitting the restaurants and bars. Here are some good ones.
Alden & Harlow
Waypoint
Russell House Tavern
Shay's Pub & Wine Bar
Park Restaurant & Bar
The Cellar Food & Drink
Mr. Bartley's Burger Cottage (a local institution since the 60's)
The Plough and Stars (Irish pub)
Cafe Sushi
Charlie's Kitchen
Border Cafe (Tex-Mex)
Felipe's Taqueria
Burdick Handmade Chocolates
Tuesday: North End
Boston's Italian neighborhood - Old North Church and the Paul Revere statue are here ("one if by land, two if by sea"). There are lots and lots of tourists but it's fun anyway. Here are some notable spots.
Regina Pizzeria 
Locale
Mike's Pastries (touristy)
Modern Pastries (across the street and arguably better)
Neptune Oyster
Panza
The cigar bar on Hanover Street
Wednesday: Party at Loyal Nine
See the party page for more details. If you want to go someplace before or after, here are some suggestions.
Lone Star Taco Bar (

modern Mexican street food plus mezcals and many tequilas

)
East Side Bar and Grille (old school Italian-American food)
Puritan & Company (expensive)
Trina's Starlight Lounge (cocktails)
Punjabi Dhaba (Indian fast food)
The Druid (pub grub and traditional Irish music)
Tupelo (down-home Southern cooking)
Hops Test Kitchen & Raw Bar (craft beers, scotches, whiskies, and oysters from Maine, Mass, RI, and PEI)
Thursday: Seaport
This area has gone from grunge to major attraction in the last dozen years and there are some notable restaurants.
Row 34 (best lobster rolls and lots of craft beers)
Sportello (trattoria-inspired, counters and stools but not cheap)
Drink (cocktail bar on Congress Street)
Menton (expensive, fine dining)
Babbo Pizzeria (owned by Mario Batali)
Blue Dragon (owned by Ming Tsai)
Barking Crab (fun atmosphere)
Noname (where "ice the blueberry" means blueberry pie a la mode)
Friday: South End
A bit more spread out, but a mother lode of good restaurants.
Butcher Shop
B&G Oysters
Beehive (jazz club and restaurant)
Pico (traditional Neapolitan pizza)
Coppa
Bar Mezzana
SRV (Venetian)
Salty Pig
Toro
Delux Cafe (funky)
Tasty Burger
Saturday: Kendall Square
You've already explored it at lunchtime but it's got good dinner options too - and it's close to the sprints. Explore the Broad Canal or take a walk along the Charles River if you haven't already.
Blue Room
Belly Wine Bar
State Park
The Friendly Toast
Bambara
Abigail's
Area Four (best pizza)
Firebrand Saints
Cambridge Brewing Company
And Also...
For those of you staying in Somerville, Davis Square has lots of restaurants, notable ones include:
Redbones Barbecue (makes my mouth water just to type it)
The Burren (Irish pub with traditional Irish music every night)
Saloon
Five Horses Tavern
For those of you staying in Cambridgeport, there are dozens of eateries in Central Square, here are a few:
Toscanini's Ice Cream (New Englanders love hand crafted ice cream and this is one of the best)
Brookline Lunch (try the Greek omlette)
Falafel Palace (Syrian fast food)
India Pavillion (all you can eat lunch buffet)
The Field Pub
River Gods
Miracle of Science Bar & Grill (on Mass Ave towards MIT)
Andala Coffee House
Cantab Lounge (live music)
Middle East Restaurant and Nightclub  (great mural, live music)
And if any of you are staying in East Boston, here are a few local spots:
La Hacienda Restaurant
Eddie C's
Ko Catering and Pies (as in Aussie meat pies, there's also one in South Boston)
Other notable eateries:
If you are sightseeing in Boston and need a good lunch spot, consider the Shake Shack on Newbury Street, it's a classic. Oh, and there's a Burdick's Chocolates just a few blocks away on Clarendon.
Citizen Public House and Oyster Bar on Boylston Street near Landmark Center and Fenway is known for whiskies, bourbon, micro-brews and whole roast suckling pig as well as oysters (although not as many kinds as Hops Test Kitchen). Late night spot.